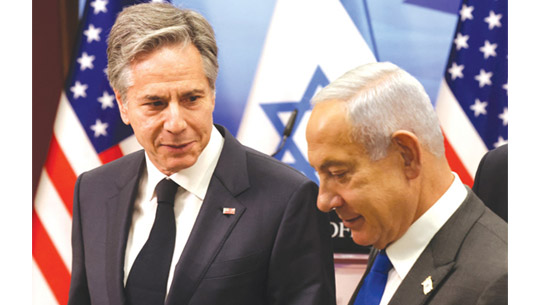 Abril 18, 2023
18 Abr

Secretary Blinken shares family story to mark Holocaust Remembrance Day

US Secretary of State Blinken told the story of his stepfather Samuel Pisar, the only member of his family to survive the Holocaust. 

 By HALEY COHEN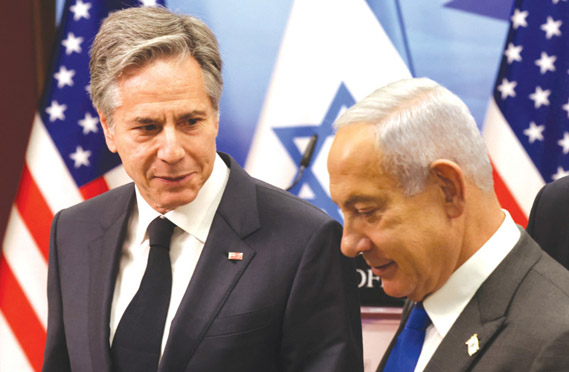 US SECRETARY OF State Antony Blinken and Israeli Prime Minister Benjamin Netanyahu leave the podium after their joint press conference on Monday, in Jerusalem.
(photo credit: Ronaldo Schemidt/Reuters)
United States Secretary of State Antony Blinken released a video on Monday sharing testimony of his stepfather's escape from Nazis to commemorate Holocaust Remembrance Day.
In the video, Blinken said that Samuel Pisar was 12 years old when Nazis invaded his hometown Blalystok, Poland. Pisar ultimately escaped during a winter death march and was liberated by American soldiers. He was the only member of his family to survive the Holocaust.
Pisar went on to become a renowned international lawyer, chronicler of the Holocaust and human rights advocate.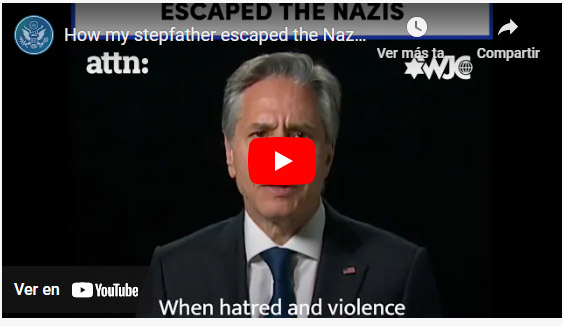 https://youtu.be/p-LqgDkMeQE
"When hatred and violence against Jews spreads, other minorities are rarely far behind,» Blinken said in the video, produced through a partnership of The World Jewish Congress with ATTN: and the State Department.
Also on Monday, Blinken spoke of the important lessons people must learn from Yom Hashoah, or Holocaust Remembrance Day, which begins Monday night.
"Among the most powerful lessons we can learn from the Holocaust is that the mass murder of six million Jews was not a sudden or singular act, but rather the culmination of countless incremental steps designed to vilify and dehumanize people," Blinken said in a statement. "That's why we must remember now, and always. We remember and honor the six million Jews and the millions of others the Nazis murdered including Roma, LGBTQI+ persons, Slavs and persons with disabilities.
"We honor them not only as they died, but as they lived, fought and loved. We mark their lives in their richness and complexity as we mourn the traditions, knowledge, histories, and families lost. We find in their memory the strength to stand against all forms of antisemitism, hatred and bigotry, and to insist the Holocaust is remembered and taught accurately."
How is Yom Hashoah 2023 being commemorated around the world?
Holocaust Remembrance Day began on Monday evening with a series of ceremonies across Israel, with the official state ceremony beginning at 8 p.m. at Yad Vashem in Jerusalem.
The Yad Vashem ceremony was streamed live on YouTube with an English translation.
Six memorial torches commemorating the six million Jews murdered in the Holocaust were lit at the start of the Yad Vashem ceremony by six of the about 147,000 remaining Holocaust survivors living in Israel.
This year, the central theme of Holocaust Remembrance Day will be the Jewish resistance during the Holocaust and the 80th anniversary of the Warsaw Ghetto Uprising.
In New York, the Museum of Jewish Heritage — A Living Memorial to the Holocaust hosted its annual Gathering of Remembrance at Temple Emanu-El of New York City which included remarks from Holocaust survivors as well as members of the third generation of survivors. Among the attendees and participants were Senate Majority Leader Charles Schumer and Congressman Daniel Goldman.
Omri Nahmias contributed to this report
Fuente: World Israel News